STAR FORGE by Cameron Cooper
Imperial Hammer 2.0
Space Opera Novel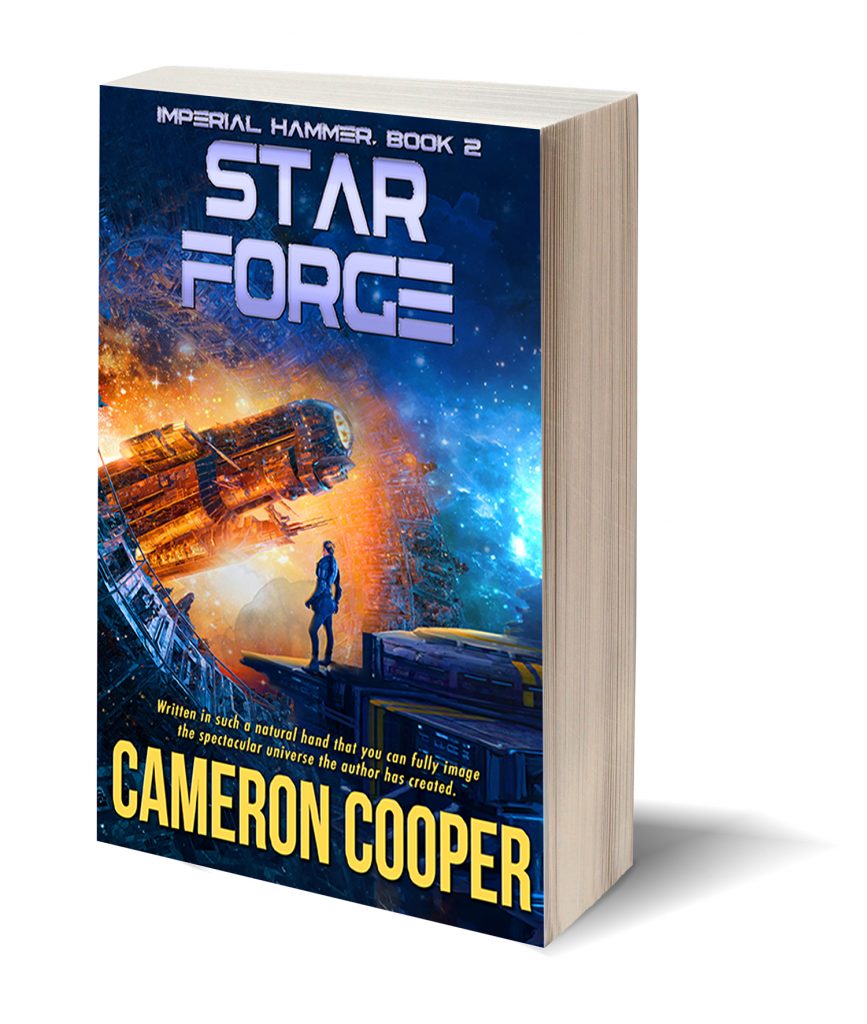 Click cover to see full sized
Click here to read an excerpt
This is epic science fiction at its finest. Realistic far future worlds. Incredible characters and scenarios.
Cameron knows how to tell a story, regardless of whether we are going back in history or forward in time.
Until this book I had forgotten just how much I love good science fiction and Cameron's is not just good, it's exceptional.
The concepts are staggering and intensely interesting.
Danny, her crew, and their unique ship have a problem they are only beginning to understand the depth of.
A very well written tightly woven story that will keep you flipping pages until you are done.
The end left me begging for more, I cannot wait for book three.
The characters are so intriguing and a bit quirky, too. They're fast becoming old friends
Danny is trapped in a fragile relationship with the self-aware interstellar array which calls itself Noam.
The array provides transport and communications.  Without its cooperation, the Carinad Empire would collapse, stranding billions of people and causing chaos and death.
Danny Andela, a former Ranger known as the Imperial Hammer, is the only human the array trusts.  Danny's work to keep the array happy and minimize its deadly temper tantrums is draining.  Worse, other humans distrust her because of her association with the array, including the crew of her one-of-a-kind ship, the Lythion.
Broke and alone, Danny faces a new peril:  The array may not trust her, afterall…
Star Forge is the second book in the Imperial Hammer space opera science fiction series by award-winning SF author Cameron Cooper.
The Imperial Hammer series:
1.0: Hammer and Crucible
2.0: Star Forge
3.0: Long Live the Emperor
4.0: Severed
5.0: Destroyer of Worlds
Space Opera Science Fiction Novel
---
Reviews
Star Forge
Average rating:
1 reviews
Jul 19, 2020
An Impossible Situation – Sci-Fi Adventure!!
Our heroine Danny is "attached" to a self-aware interstellar array (Noam) which can see and hear everything through her own sight and hearing. When a series of mishaps seems to be more than coincidence, how does one work around that danger when the array knows everything she does??

Noam is an all-powerful entity, with an adolescent temper. Yikes!

Clever, intricate and entertaining. Definitely makes you think. Such a unique concept. Exceptionally executed!
---
| Bookmark on Bookbub | Bookmark on Goodreads |
---