SUNS ECLIPSED by Cameron Cooper
The Indigo Reports 2.0
Space Opera Novel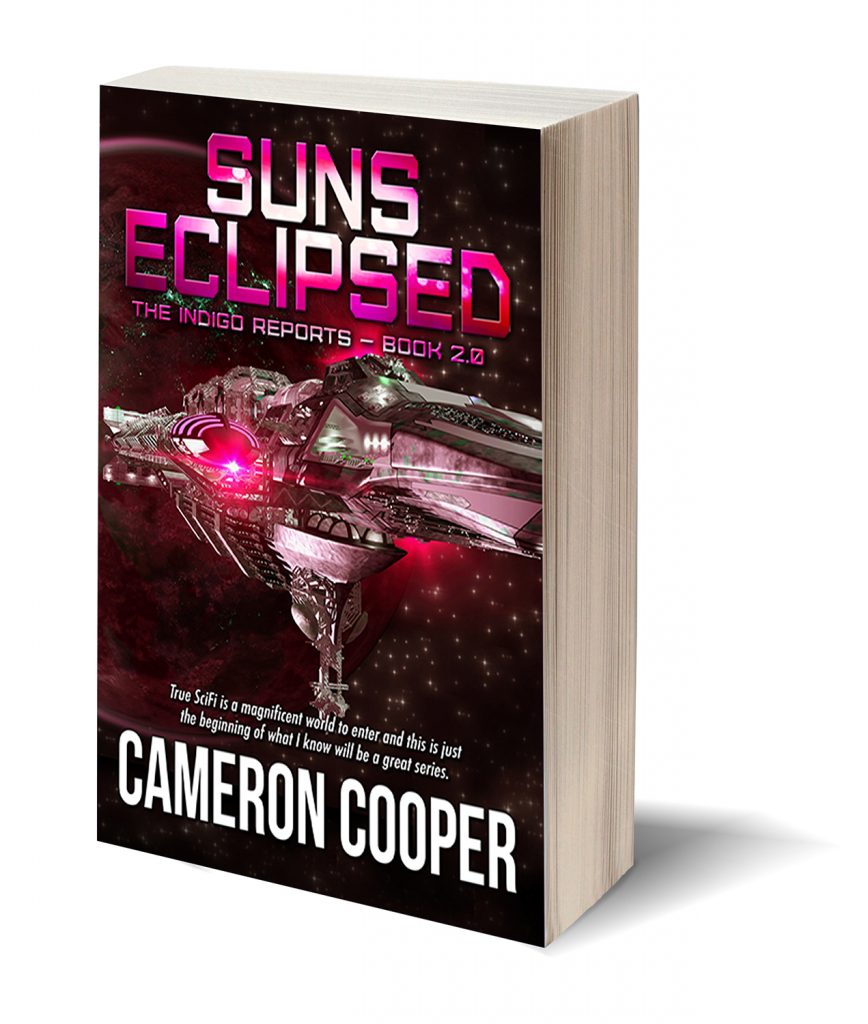 Click cover to see full sized
Click here to read an excerpt
The story is unpredictable, the horror and pain is real. This is an epic saga!!
The signature intensity and tension of the Indigo series is back!!!
This is epic science fiction at its finest. Realistic far future worlds. Incredible characters and scenarios.
Cameron knows how to tell a story, regardless of whether we are going back in history or forward in time.
Until this book I had forgotten just how much I love good science fiction and Cameron's book is not just good, it's exceptional.
This is a complex tale of planetary politics, plotting, spying, scientific marvels, and advanced androids. Plus there is the fascinating floating city of Demos.
The concepts are staggering and intensely interesting.
The Indigo Reports series is far more than I ever anticipated.
This story is terrific! It's intriguing and futuristic and human in its telling.
One of my favorite and most satisfying science fiction series to read. A series to devour.
It's not an impossible mission. It's an insane one.
Ten people. Eriumans, Karassians, Free-Staters. None of them armed with anything more lethal than a single repaired and unreliable one-handed ghostmaker and a handful of bladed weapons, all of them with mental instabilities from years of brain wipes and memory manipulations.  Worse, Bellona Cardenas is uncertain of their loyalties. Ten fragile people to infiltrate the most secure facility in the Republic.
So begins Suns Eclipsed, the second book in the Indigo Reports space opera science fiction series by award-winning SF author Cameron Cooper.
The Indigo Reports series:
0.5 Flying Blind
1.0 New Star Rising
1.1 But Now I See
2.0 Suns Eclipsed
3.0 Worlds Beyond
Space Opera Science Fiction Novel
BUY FROM AMAZON, OR DOWNLOAD FROM KINDLE UNLIMITED
$5.99 USD $2.99 while the crisis continues!

---
PRINT:
AMAZON
B&N PRINT
ANGUS & ROBERTSON
BLACKWELL'S
WORDERY
---
---
---
Reviews
Suns Eclipsed
Average rating:
2 reviews
Jul 20, 2020
Suns Eclipsed
Oh, Boy! Cameron drops us right into the middle of the action from the very start of the story. I could not put it down after reading the first paragraph.

Suns Eclipsed has the feel of my favorite sci-fi sagas. Action, aliens, advanced technology, questionable technology, varied civilizations, things not going as planned, etc; as well as allegories and vignettes which mirror the 'real' world. One such example is Chidi's plan to explain away Shavistran as a fake. This is a great example of the "Big Lie" in action. And, my favorite quote from the book is "There is an inertia to a communal belief…"

Of course Cameron Cooper's attention to detail more than satisfies the science junkie in me. Circadian rhythm, faraday cages, an Einstein-Rosen bridge!

I am so excited that there is more to come.
Jul 20, 2020
Fast paced action packed space adventure!
I absolutely loved this book! The story is intense!!! The plot is completely unpredictable and filled with surprises. The emotions are real, the horror is terrible and unfair and the action is sizzling!

I thoroughly enjoyed Sang's development and getting to know the Ledanians on a more personal level. Bellona's pain touched my heart.

I love that the space tech and terminology is understandable. Wow! Their invention is awesome!! I would love to see what other justice they dish out in the future.

I recommend this book if you crave something extraordinary and out of this world! You will not be dissapointed!!
---
| Bookmark on Bookbub | Bookmark on Goodreads |
---