LONG LIVE THE EMPEROR by Cameron Cooper
Imperial Hammer 3.0
Space Opera Novel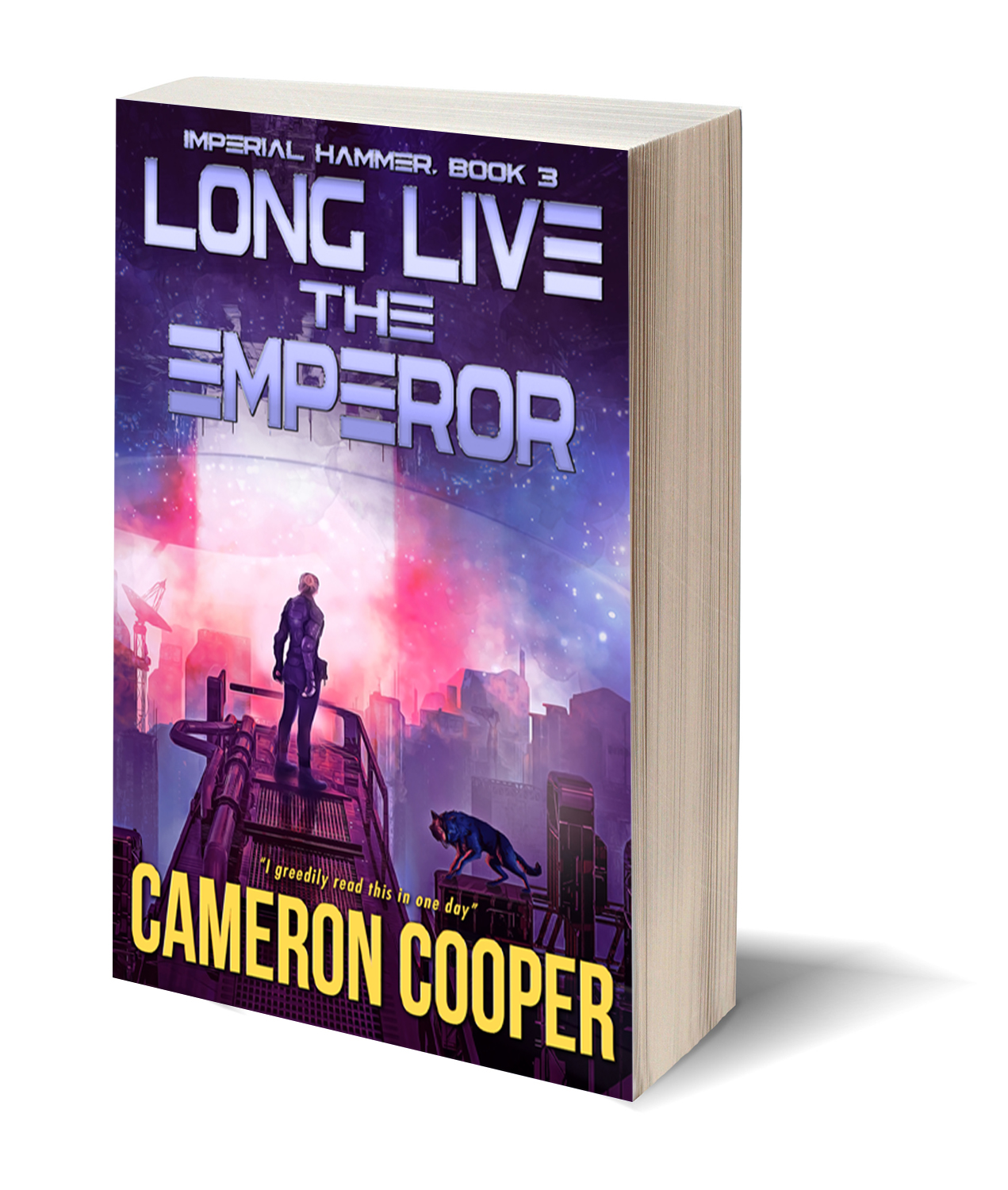 Click cover to see full sized
Click here to read an excerpt
This is epic science fiction at its finest. Realistic far future worlds. Incredible characters and scenarios.
Cameron knows how to tell a story, regardless of whether we are going back in history or forward in time.
Until this book I had forgotten just how much I love good science fiction and Cameron's is not just good, it's exceptional.
The concepts are staggering and intensely interesting.
Danny, her crew, and their unique ship have a problem they are only beginning to understand the depth of.
A very well written tightly woven story that will keep you flipping pages until you are done.
The end left me begging for more, I cannot wait for book three.
The characters are so intriguing and a bit quirky, too. They're fast becoming old friends
The Imperial Hammer versus the self-aware interstellar array.
The array is their enemy, but Danny and the crew of the Supreme Lythion must pretend to be allies while they desperately search for the hidden factory where the array builds its army of super-suits.
The clock is ticking. The Emperor is besieged and fending off assassination attempts at every turn, while innocent humans are cut off from the empire and left to starve.  And sooner or later, the array will learn the truth about Danny.
When that happens, its wrath will be overwhelming.
Long Live the Emperor is the third book in the Imperial Hammer space opera science fiction series by award-winning SF author Cameron Cooper.
The Imperial Hammer series:
1.0: Hammer and Crucible
2.0: Star Forge
3.0: Long Live the Emperor
4.0: Severed
5.0: Destroyer of Worlds
Space Opera Science Fiction Novel
---
Reviews
Long Live the Emperor
Average rating:
1 reviews
Jul 30, 2020
This Fascinating series continues to Entertain!!
Brilliant and intricate. The story of traveling across space where space stations and gates are controlled by an array. That array is now "self aware" and a bit of a petulant child. Our main characters have angered the array, and must deal with the aftermath.

The must work "under the covers" to discover where the array is amassing its army, and savie some who are "stranded" by the array along the way.

Many memorable characters – but my favorite is Varg, the parawolf. A faithful companion and terrific battle partner. Splendid entertainment to be found here!!
---
| Bookmark on Bookbub | Bookmark on Goodreads |
---