SERA'S GIFT by Tracy Cooper-Posey
Destiny's Trinities. Book 3.0
Vampire Menage Urban Fantasy Romance Novella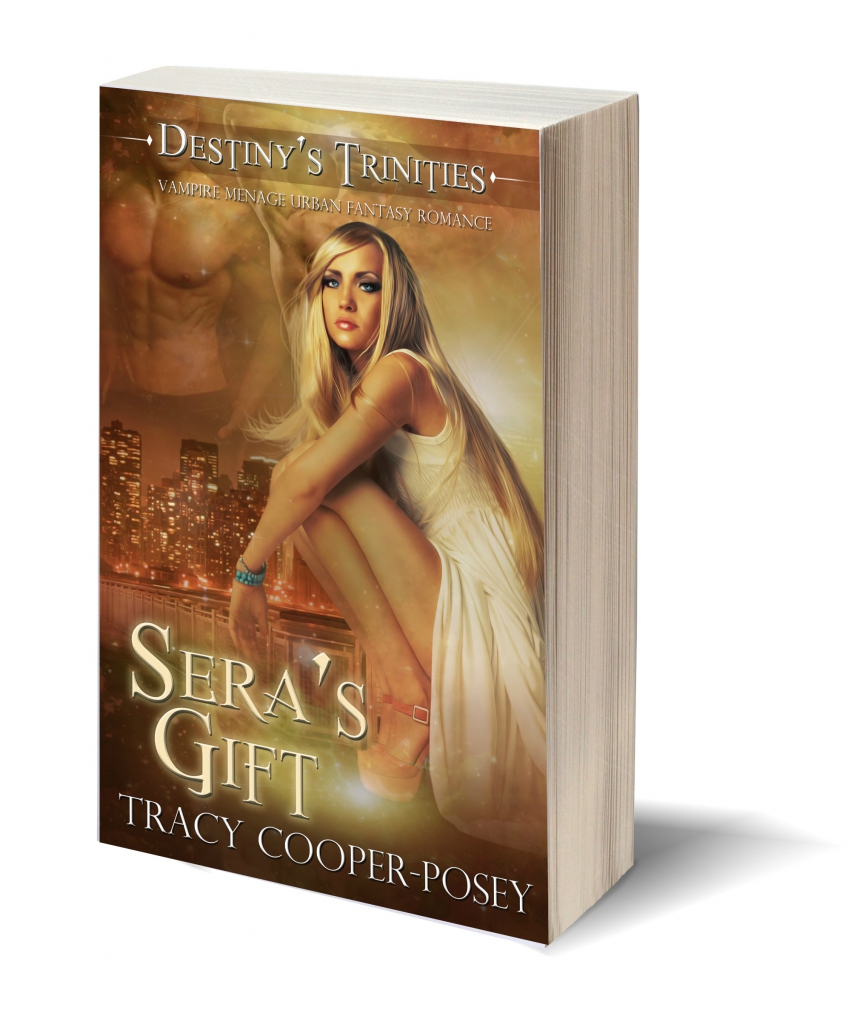 Click cover to see full sized
Click here to read an excerpt
2010 CAPA Finalist, Best Erotic Paranormal Romance
It was the bonding of the males that intrigued me the most. I must say this was a nicely rounded tale full of some very steamy lovemaking (notice I didn't label it sex?). 
Steamy is not enough to describe this book, the words burn your eyes. Enjoyed this one and can't wait to read what happens in book 3
Once again [she] takes her readers on an adventure to a mystified world filled with paranormal evil and danger that is absolutely riveting. The reader is treated to some of the most arousing and sensual sex scenes they'll ever read.
Letting go is sometimes the only gift love has left to give.
Sera arrives in New York to help Lindál, but a vampeen attack brings her face to face with two men and changes her life forever.
Diego Savage lives up to his name.  Cynical, rebellious and a womanizer, he doesn't believe in the trinities at all. Only a handful of people know the truth about his scarred heart and terrible past, and it would take a miracle for him to change.  A miracle, or someone like Sera with her special gift.
Blake Harvey, dedicated NYC police lieutenant, takes one look at the tall, supple woman with the crystal blue eyes and glowing skin and knows his life is about to change in ways he can't even define, but his body is already responding to with a power that is hard to deny.
The bonding has begun…
Reader Advisory:  This short MMF vampire romance features two super hot alpha heroes, multiple sex scenes, including anal sex, MM sexual play, and MMF sex.  Do not read this book if frank sexual language and sex scenes offend you.  No non-humans were harmed except for large numbers of Grimoré, who died with satisfactory squeals…
This book is part of the Destiny's Trinities series:
1.0:  Beth's Acceptance
2.0:  Mia's Return
3.0:  Sera's Gift
3.5:  The First Trinity – Novellas 1-3
4.0:  Cora's Secret
5.0:  Zoe's Blockade
6.0:  Octavia's War
6.5:  The Second Trinity – Novellas 4-6
7.0:  Terra's Victory
7.5:  Destiny's Trinities – Series Boxed Set
A Vampire Ménage Urban Fantasy Romance
BUY FROM STORIES RULE PRESS
$3.99 USD
Book can be read on all devices and apps. [More info]
---
BUY FROM YOUR FAVOURITE BOOKSELLER
---
---
| Bookmark this book on Bookbub | Bookmark this set on Goodreads |
---